Art. 104

---
Antijamming wheels braking Bosch (A.B.S.) with four detectors plants simulator
The simulator system we offer (A.B.S. 2B produced by Bosch) is
composed of a traditional TANDEM brake pump.
The two outputs of the brake pump, each controlling diagnally a front
and back wheel, are connected to a hydraulic power unit and
consequently to a 4 solenoid valves with 3 positions:
Pressure loading position;
Pressure maintenance position;
Pressure unloading position.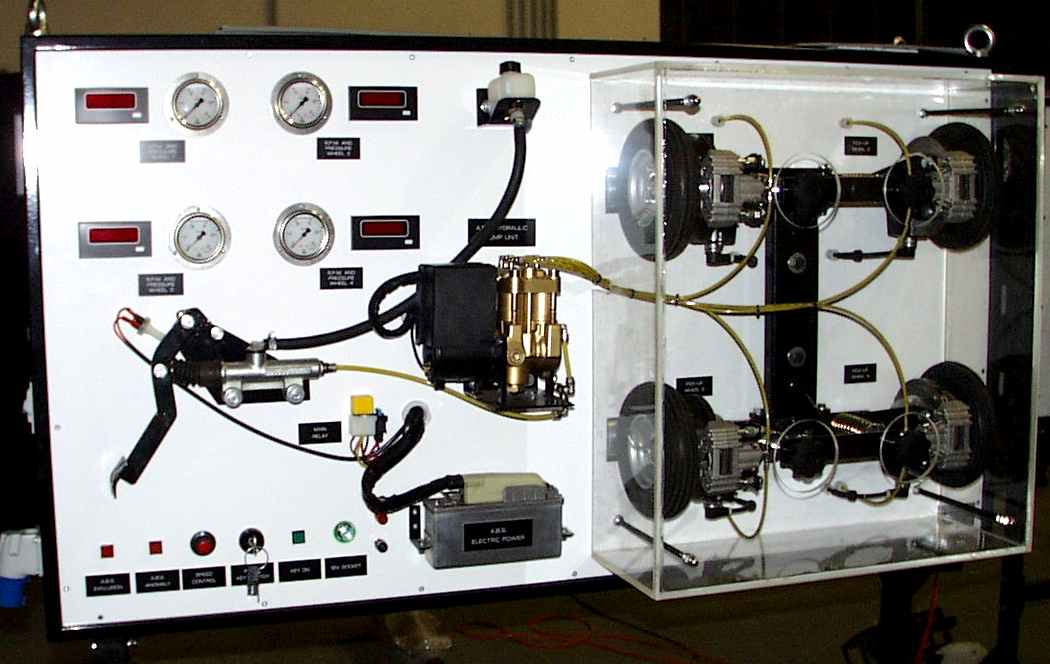 The solenoid valves receive a command by current from the
electronic power unit.
The hydraulic power unit also incorporates the following:
Recovery pump;
Relative control relay;
Safety diode for lighting the A.B.S. lamp;
Solenoid valves power supply relay.
The electronic circuit is composed of the following:
Overvoltage relay, also operating as the main relay;
4 inductive sensors detecting wheel speed;
Electronic power unit constituting the intelligent unit
of the whole systems, which works out all signals in input
and consequently supplies commands to different actuators;
Solenoid valves allowing the modulation of pressure to the
calipers during the A.B.S. regulations;
Recovery pump which recovers the brake fluid during the
pressure unloading phase;
A.B.S. lamp which lights in the event of the system irregularities;
Switch located on the brake pedal communicating to the power
unit that the driver is braking;
Voltage signal communicating that the vehicle is running.
Technical features

---
The technical characteristic of trainer are:
Dynamic and actual operation of an automotive
braking system;
Display of the pressures and revolutions in relation to
each of the 4 wheels;
Possibility of varying the static load on each wheel in
order to simulate the different coefficients of friction
occurring under the actual conditions of an automobile;
Possibility of connecting/disconneting the A.B.S. system
in order to compare the automobile's two reactions
during braking;
Simulations by switches of main breakdowns that
could occur to the plant;
Autodiagnosis visual gauge;
Adjusable speed changer;
Inside the board there is:

Mechanical unit for wheels dragging;
Electric engine;
Feeder 12V for system supply;
Engine revolutions check electronical unit.

Autovehicle miniature chassis constituited of:

4 Wheels;
4 Disc-brakes;
4 Phonic wheels;
4 PICK-UP sensors;
4 Variable load springs.
On the front side are located:
A knob simulating the motor rpm variation;
Ignition key with a special warning light;
Electrical plug for 12V;
Red light for A.B.S. faulty;
Red switch for A.B.S. simulator off.
In the back side of the trainer, inside the door,
there are housed switches which can simulate
several faults occuring in the vehicle.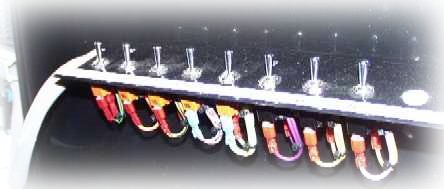 Simulations
---
This teaching panel simulates endless braking conditions
of a car.
As a matter of fact, several actual cases of a braking car
can be accurately simulated by using the proper controls.
Types of simulations:
Simulation Pick-Up wheel n. 1 trouble;
Simulation Pick-Up wheel n. 2 trouble;
Simulation Pick-Up wheel n. 3 trouble;
Simulation Pick-Up wheel n. 4 trouble;
Simulation battery trouble;
Simulation solenoid valve for wheel n. 1 trouble;
Simulation solenoid valve for wheel n. 2 trouble;
Simulation solenoid valve for wheel n. 3 trouble;
Simulation solenoid valve for wheel n. 4 trouble;
---
| INFORMATIONS | PRODUCTION | DIDACTICS | NEWS! | OCCASIONS! | SERVICES |
| HOME PAGE |